Berlin Marathon
Berlin-Marathon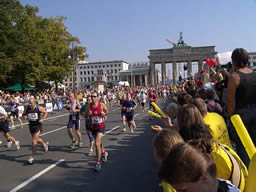 2005 Berlin Marathon

The Berlin Marathon is held annually on a late September weekend in Germany's capital, Berlin. The marathon is held on Sunday, handbikers and wheelchair starting before the main runners' marathon. The inline skating event and a children's marathon (800m) take place on Saturday. The marathon is operated by SCC-RUNNING Events GmbH.

The 2007 Marathon took place on September 29 / 30 and was Berlin's largest ever. The next Berlin Marathon will take place on September 27 / 28, 2007. (Note that from 2009 onwards, the Berlin Marathon will probably take place during July, not on the traditional last weekend of September).

The 2007 Berlin Marathon results can be viewed on the official website here.
Link
The marathon's official site is at http://www.berlin-marathon.com/.
Berlin Marathon Route / Course
The marathon begins and ends at the Brandenburg Gate and is of course 42.195 km in length (measured according to AIMS/IAAF rules). A course map is available for download here. Berlin is a very flat city with few noticeable hills, none of which lie on the marathon's route, making for very fast times. The majority of the course is located within the former West Berlin, but takes in the main sights in the former East Berlin's city center.
The course starts off westwards through the Tiergarten, passing the Siegessäule into the Charlottenburg district before looping back north and eastwards through the Moabit area. Crossing the former path of the Berlin Wall at Invalidenstrasse, runners continue via the Torstrasse and Karl-Marx-Allee, crossing the Spree near Treptower Park.
The marathon passes back into the former West Berlin at Border Crossing Heinrich-Heine-Straße, curving through the Neukölln and Kreuzberg districts. Between kilometers 22 and 23 runners pass Rathaus Schöneberg, site of Kennedy's famous "Ich bin ein Berliner" speech (will they be handing out free doughnuts?), then head out into the comparatively suburban district of Steglitz.
The course turns west then northwards, reaching Olivaer Platz at the western end of the prestigious Kurfürstendamm - Ku'damm shopping boulevard. Continuing up the Kurfürstendamm, the Kaiser Wilhelm Memorial Church is visible at kilometer 34, at which point the course bends into the Tauentzienstrasse, passing Berlin's premier department store KaDeWe on Wittenbergplatz.
Around Nollendorfplatz the gay community might be out to cheer runners on, who pass by towards Potsdamer Strasse and then Potsdamer Platz, once more crossing the line of the former Berlin Wall into the Leipziger Strasse, before reaching the Spreeinsel. Here runners can check out the ruins of Erich Honecker's Palast der Republik and the former GDR State Council Building before reaching Unter den Linden, Berlin's monumental boulevard. From there on the finishing line beyond the Brandenburg Gate is visible straight ahead.
Previous winners
| Date | Time | Winner (men) | Time | Winner (women) |
| --- | --- | --- | --- | --- |
| September 30th, 2007 | 2:04:26 | Haile Gebrselassie (ETH) | 2.23:17 | Gete Wami (ETH) |
| September 24th, 2006 | 2:05:56 | Haile Gebrselassie (ETH) | 2:21:34 | Gete Wami (ETH) |
| September 25th, 2005 | 2:07:41 | Philip Manyim (KEN) | 2:19:12 | Mizuki Noguchi (JPN) |
| September 26th, 2004 | 2:06:44 | Felix Limo (KEN) | 2:19:41 | Yoko Shibui (JPN) |
| September 28th, 2003 | 2:04:55 | Paul Tergat (KEN) | 2:26:32 | Yasuko Hashimoto (JPN) |
| September 29th, 2002 | 2:06:47 | Raymond Kipkoech (KEN) | 2:21:49 | Naoko Takahashi (JPN) |
| September 30th, 2001 | 2:08:47 | Joseph Ngolepus (KEN) | 2:19:46 | Naoko Takahashi (JPN) |
| September 10th, 2000 | 2:07:42 | Simon Biwott (KEN) | 2:26:15 | Kazumi Matsuo (JPN) |
| September 26th, 1999 | 2:06:44 | Josphat Kiprono (KEN) | 2:20:43 | Tegla Loroupe (KEN) |
| September 20th, 1998 | 2:06:05 | Ronaldo da Costa (BRA) | 2:25:22 | Marleen Renders (BEL) |
| September 28th, 1997 | 2:07:41 | Elijah Lagat (KEN) | 2:23:44 | Catherina McKiernan (IRL) |
| September 29th, 1996 | 2:09:15 | Abel Antón (ESP) | 2:26:35 | Colleen deReuck (RSA) |
| September 24th, 1995 | 2:07:02 | Sammy Lelei (KEN) | 2:25:37 | Uta Pippig (GER) |
| September 25th, 1994 | 2:08:31 | Antonio Pinto (POR) | 2:25:15 | Katrin Dörre (GER) |
| September 26th, 1993 | 2:10:57 | Xolile Yawa (RSA) | 2:26:20 | Renata Kokowska (POL) |
| September 27th, 1992 | 2:08:07 | David Tsebe (RSA) | 2:30:22 | Uta Pippig (GER) |
| September 29th, 1991 | 2:10:57 | Steve Brace (WAL) | 2:27:36 | Renata Kokowska (POL) |
| September 30th, 1990 | 2:08:16 | Steve Moneghetti (AUS) | 2:28:37 | Uta Pippig (GER) |
| October 1st, 1989 | 2:10:11 | Alfredo Shahanga (TAN) | 2:28:45 | Päivi Tikkanen (FIN) |
| October 9th, 1988 | 2:11:45 | Suleiman Nyambui (TAN) | 2:29:16 | Renata Kokowska (POL) |
| October 4th, 1987 | 2:11:11 | Suleiman Nyambui (TAN) | 2:31:22 | Kerstin Pressler (GER) |
| September 28th, 1986 | 2:11:03 | Boguslaw Psujek (POL) | 2:32:10 | Charlotte Teske (GER) |
| September 29th, 1985 | 2:11:43 | Jimmy Ashworth (ENG) | 2:34:10 | Magda Ilands (BEL) |
| September 30th, 1984 | 2:13:35 | John Skovbjerg (DEN) | 2:39:32 | Agnes Jakab (HUN) |
| September 25th, 1983 | 2:13:37 | Karel Lismont (BEL) | 2:40:32 | Karen Holdsworth (GBR) |
| September 26th, 1982 | 2:14:47 | Domingo Tibaduiza (COL) | 2:47:05 | Jean Lochhead (GBR) |
| September 27th, 1981 | 2:15:42 | Ian Ray (ENG) | 2:47:24 | Angelika Stephan (GER) |
| September 28th, 1980 | 2:16:48 | Ingo Sensburg (GER) | 2:47:18 | Gerlinde Puettmann (GER) |
| September 30th, 1979 | 2:21:09 | Ingo Sensburg (GER) | 3:07:07 | Jutta von Haase (GER) |
| September 3rd, 1978 | 2:20:03 | Michael Spoettel (GER) | 2:57:09 | Ursula Blaschke (GER) |
| September 10th, 1977 | 2:16:21 | Norman Wilson (GBR) | 3:10:27 | Angelika Brandt (GER) |
| September 10th, 1977 | 2:15:19 | Guenter Mielke (GER) | 2:34:48 | Christa Vahlensieck (GER) |
| September 26th, 1976 | 2:23:08 | Ingo Sensburg (GER) | 3:05:19 | Jutta von Haase (GER) |
| September 28th, 1975 | 2:47:08 | Ralf Bochroeder (GER) | 3:59:15 | Christin Bochroeder (GER) |
| October 13th, 1974 | 2:44:53 | Guenter Hallas (GER) | 3:22:01 | Jutta von Haase (GER) |