> > > Potsdamer Platz
Potsdamer Platz
Potsdamer Platz

Potsdamer Platz in 2006

Potsdamer Platz in 1945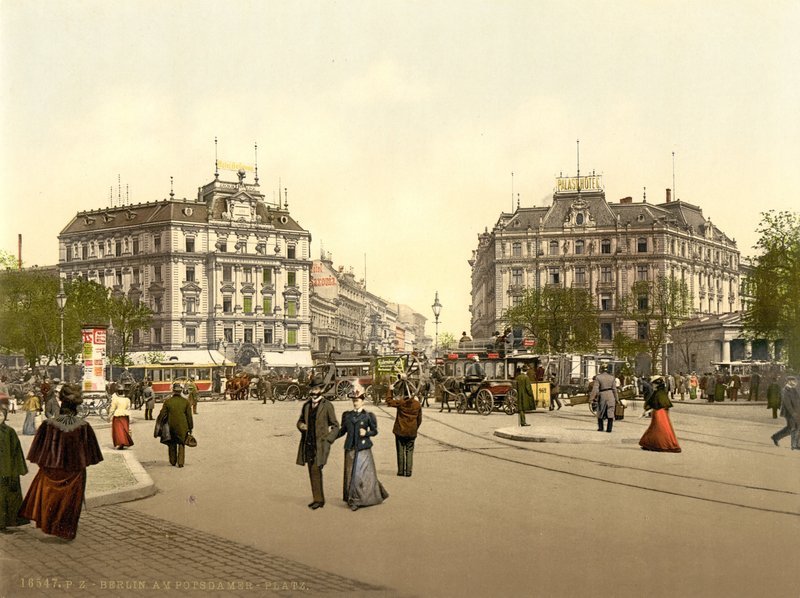 Potsdamer Platz around 1900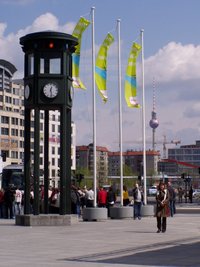 Replica of original traffic light
From busy square to ruin to glittering commercial district: Berlin's Potsdamer Platz (Potsdam Square) is a unique urban space central to Berlin and its history.
History
During its heyday during the Twenties and Thirties, the Potsdamer Platz - a traffic intersection just outside the old city wall - was said to be the busiest city square in Europe. With the rise of the automobile after WW1 congestion got so bad Berlin's first traffic light was erected here - a replica now stands in the middle of the square.
During the Second World War the area around Potsdamer Platz was heavily bombed and many buildings - including the nearby Potsdamer Bahnhof station - were largely destroyed. Despite this, Potsdamer Platz retained its buzz: now the border between the British and Soviet sectors divided the square, which was still an important transport node. On the western side shops and stalls sprang up offering goods and services not available in the east, attracting much cross-border traffic.
In 1961 the almost invisible dividing line between East and West suddenly grew into the Berlin Wall, and the previously central square became an isolated dead end. Cut off from Berlin's traditional center, now in the East, and West Berlin's commercial district around theKu'damm, and with both U-Bahn and S-Bahn stations now smack in the middle of the wall's Death Strip, it lost its raison d'etre and faded rapidly. The construction of the Culture Forum nearby restored some life to the area, but as long as the Wall existed, Potsdamer Platz vanished from the map in all but name. The only reason to go there was to climb the viewing stand to look over the wall.
In 1989 with the fall of the Berlin Wall Potsdamer Platz once again became busy with traffic, at first on foot and later - once the Wall had been completely dismantled - with cars and buses.
Access
How to get to Potsdamer Platz: Potsdamer Platz (Station) station is served by the S-Bahn (lines S1, S2 and S25) and the U-Bahn (U2). Regional trains also stop at Potsdamer Platz. Important bus routes include the 200 and M48 buses, both of which continue as far as Alexanderplatz.