> > > Tiergarten
Tiergarten
Großer Tiergarten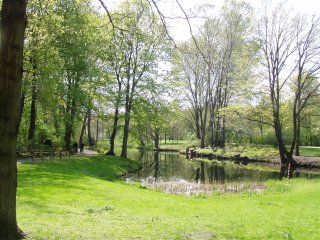 The Tiergarten has many idyllic corners Located in the heart of Berlin, the Tiergarten is a huge city-centre park, at 210 hectares comparable in size and function to London's Hyde Park (125 hectares) or New York's Central Park (335 hectares).
The name Tiergarten literally means "animal garden", and in many German cities Tiergarten means the Zoo. While Berlin'sZoo borders the Tiergarten, the Tiergarten itself is home only to the usual wildlife, including a slight excess of rabbits and at least one fox for control thereof.
History
The Tiergarten dates from the 17th century, when it was laid out as a hunting park by Friedrich I (1657 - 1713) just outside the gates of the then Berlin. Its basic layout has not changed much since then: dominated by an east-west street, now the Straße des 17. Juni, which linked the city palace to Schloss Charlottenburg, eight alleys radiate out from the Großer Stern (now the location of the Siegessäule ) in all directions.
Under Friedrich II (1712 - 1786), who had little interest in hunting, the Tiergarten was turned into a pleasure garden for the population of Berlin, and was landscape in the Baroque style by Georg Wenzeslaus von Knobelsdorff from 1742 onwards.
At the end of the 18th and during the first half of the 19th centuries the Tiergarten was gradually relandscaped in a more natural style influenced by English landscape gardens; most of the Tiergarten's current arrangement comes from landscape architect Peter Joseph Lenné, who remodelled the Tiergarten between 1818 and 1842.
Access
Bus 100 passes right through the Tiergarten, while Bus 200 skirts its southern edge on the way from Zoo to Potsdamer Platz. From the east, S-Bahn station Unter den Linden provides easy access.
Accommodation
Looking for quality accommodation at discount prices around the Tiergarten? Visit Berlin Hotels for more information.
Japanese Embassy (0.5 km), Victory Column (Siegessäule) (0.5 km), Italian Embassy (0.5 km), South African Embassy (0.6 km), Nicaraguan Embassy (0.6 km), Panamanian Embassy (0.6 km), Indian Embassy (0.6 km), Estonian Embassy (0.6 km), Swedish Embassy (0.7 km)