> > > Rathaus Schöneberg
Rathaus Schöneberg
Rathaus Schöneberg (sometimes written in English as Rathaus Schoeneberg) was the seat of the West Berlin city government during the Cold War and is probably best known as the location where John F. Kennedy made his famous Ich bin ein Berliner speech.
At the time of its construction, between 1911 and 1914, the town of Schöneberg was not yet part of Greater Berlin. Following Schönebergs incorporation into Berlin in 1923, the Rathaus was just one of many borough town halls. Following the Second World War and the division of Berlin, it became the "provisional" seat of West Berlin's government, a situation which continued right up until reunification in 1990. It was home to both the parliament and the Senate (mayoral cabinet).
Following reunification Berlin was once again governed from the traditional Rotes Rathaus (Red City Hall), and Rathaus Schöneberg reverted to its original function as the town hall for the Borough of Schöneberg-Tempelhof.
The clock tower houses the Freiheitsglocke (Freedom Bell or Liberty Bell), donated by the people of the United States to Berlin in 1950. It can be heard at midday every day.
The square in front of the building was named John-F.-Kennedy-Platz following the President's assasination in 1963. On weekends it is home to a flea-market.
The John F. Kennedy Speech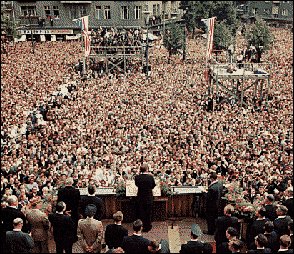 JFK speaking at Rathaus Schöneberg
John F. Kennedy made his famous Ich bin ein Berliner speech during a visit to Berlin on June 26, 1963.
Listen to the Ich bin ein Berliner segment of the speech with these audio files:
Access
Rathaus Schöneberg is a short walk from Rathaus Schöneberg on U-Bahn line U4. Bus M46 from Wittenbergplatz stops in front of the Rathaus.