> > Trains
Trains and Railways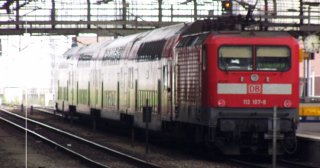 A Regional Express train at Berlin's Ostbahnhof

Following German reunification, Berlin's railway network has been almost completely reconstructed and the city is now well-connected by rail transport from all parts of Europe.

With the opening of Berlin's newHauptbahnhof in May 2006, services have been improved yet further, and journey times to many destinations have been shortened by 30 minutes or more.
Stations
Historically Berlin had no central station; like many major capital cities, different railway companies built their own termini around the then city limits. Although it was recognised at an early stage that this was inefficient, it proved difficult to develop a more rational solution for long-distance trains; the Stadtbahn was an early (and quite successful) attempt to rationalize east-west traffic.
Following the Second World War, the major termini became impractical for passenger use; not somuch due to war damage, but because they were either located in the western side of the city or - in the case of the Stettiner Bahnhof - had its approaches running through West Berlin, making them politically unattractive destinations for passenger trains originating from eastern Germany. By 1952 all the termini had been closed to passenger traffic, with interzonal trains being routed via the Stadtbahn, and East German trains diverted via a specially constructed ring line to the eastern side of the city, with Ostbahnhof and Lichtenberg becoming the main railway stations.
Reunification put Berlin in an ideal position for a major restructuring of its railway network. To make long-distance and regional trains more convenient, a new north-south tunnel was constructed, and where it crosses the Stadtbahn, a newCentral Station was built.