> > > Memorial Church
Kaiser Wilhelm Memorial Church
Kaiser-Wilhelm-Gedächtniskirche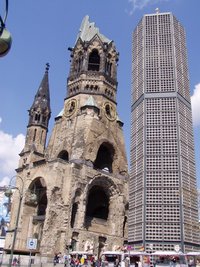 Old and new structures
One of Berlin's iconic buildings, the half-ruined Kaiser Wilhelm Memorial Church (occasionally known as the Emperor William Memorial Church together with its modern additions is located on Breitscheidplatz in the centre of western Berlin and dominates the view from the Kurfürstendamm and the Tauentzienstrasse.
History
The church was originally constructed between 1891 and 1895 by architect Franz Schwechten, who was also responsible for the original Anhalter Bahnhof, as a present to the German people from the then Kaiser Wilhelm II. It serves as a memorial to Wilhem II's father, Wilhelm I.
The church was partially destroyed during a bombing raid in 1943. Following the war, several different options for the church's redevelopment were considered, including the construction of a new church made from glass in the old church's ruins, and also its complete demolition and replacement with a new structure. Eventually it was decided to leave the ruined tower as a memorial to the futility of war, and create a new church around it.
The new buildings consist of four structures designed by architect Egon Eiermann. Most prominent are the hexagonal tower and worship room.
The new church was consecrated on May 25, 1962 - the same day as the new Coventry Cathedral - and features a cross made of nails from the old Coventry Cathedral.
A little known fact: a 1:10 scale model of the church stands in the town of Wernigerode in the former East Germany.
Access
Kaiser Wilhelm Memorial Church
Breitscheidplatz
10789
Berlin
Germany
Tel.: (030) 218 50 23
Opening hours: 9am - 7pm
The Memorial Church is in the center of the Breitscheidplatz and is easily accessible from stations Kurfürstendamm (U-Bahn lines U1, U9) and Zoo Station (S-Bahn, U2, U9).