> > > State Council Building
State Council Building
Staatsratsgebäude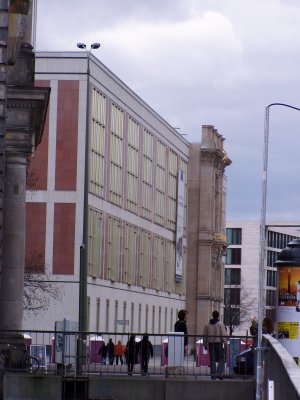 The State Council Building was formerly the official seat of the GDR government. Constructed between 1963 and 1964, its dominant feature is a section of facade which used to be part of the old Imperial Palace - it was from this section that Karl Liebknecht, one of the founders of the Communist Party in Germany, declared a socialist republic in 1918 following Germany's defeat in the First World War. (The republic only lasted a few weeks).
Inside, the building has all the trappings of socialist architecture at the time. Particularly impressive are the large stained glass windows behind the main staircase, which show scenes from Germany's socialist past and the GDR.
Following German reunification, the building was used for exhibitions and conferences. Between 1999 and 2001 it became the temporary office for the Federal Chancellor (Gerhard Schröder) until the new Federal Chancellery building was completed.
Between 2003 and 2005 the building was extensively renovated (taking care to preserve its socialist "decor") and it is now used as a business school. The foyer can still be viewed by the general public.
Spree-Island (Spreeinsel) (0.1 km), Palast der Republik (0.2 km), Reichsbank (0.2 km), Jungfernbrücke (0.2 km), DDR Museum (GDR Museum) (0.3 km), Unter den Linden (0.3 km), Marx-Engels Forum (0.4 km), Ampelmann Shop in the DomAquarée (0.4 km), Slovenian Embassy (0.4 km)