> > > Unter den Linden
Unter den Linden
Unter den Linden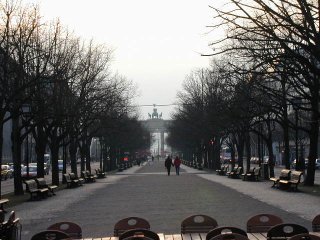 Looking towards the Brandenburg Gate Unter den Linden is Berlin's grand boulevard, a mile or so of Prussian glory starting at the site of the former royal palace and ending at the Brandenburg Gate. Despite appearances though, most of the buildings aren't that old: the area was heavily bombed in the war and was the scene of heavy fighting during the final days of the Battle of Berlin. Many of the buildings are reconstructions, oddly enough by the otherwise anti-imperialist GDR, which was aiming to use its Prussian legacy to bolster its own national identity. There's also a mix of GDR and post-unification architecture.
Brandenburg Gate - Friedrichstrasse
A stroll up Unter den Linden from the Brandenburg Gate takes you past a collection of more-or-less modern government and embassy buildings. The first one to stand out is the Russian Embassy, which looks old but is actually a post war building in the Stalinist-classicist style. A little further on on the opposite side is the Cafe Einstein, popular with politicians and located in the first post-1991 building to be erected on Unter den Linden.
Continuing on past the Russian Embassy complex on the right-hand side is the Komische Oper (Comic Opera), one of Berlin's three opera houses. The opera itself is located behind a modernist ensemble of auxiliary buildings directly on Unter den Linden.
At the junction with the Friedrichstrasse, the Haus der Schweiz (Swiss House) on the left-hand side is the only building on Unter den Linden constructed during the Nazi era.
Palast der Republik (0.2 km), State Council Building (0.3 km), DDR Museum (GDR Museum) (0.3 km), Spree-Island (Spreeinsel) (0.3 km), Ampelmann Shop in the DomAquarée (0.4 km), Reichsbank (0.4 km), Marx-Engels Forum (0.4 km), Strandbar Mitte (0.5 km), Belgian Embassy (0.5 km)