> > > Potsdamer Platz
Potsdamer Platz (Station)
Potsdamer Platz
Wall sign in the U-Bahn station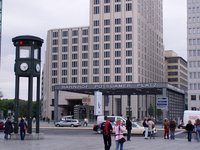 Entrance to the DB regional station
Potsdamer Platz is an important S-Bahn, U-Bahn and regional railway station located directly below Berlin's Potsdamer Platz (although the U-Bahn station extends under Leipziger Platz).
Note: despite its name, and although it lies on the old main road to Potsdam, there are no direct trains from Potsdamer Platz to Potsdam.
Fare Zone
Potsdamer Platz is in VBB fare zone A.
Convenient for
Potsdamer Platz Arkaden
Kulturforum
Sony Center
Lines
History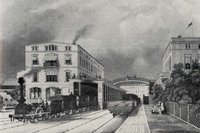 The original Potsdamer Bahnhof
Potsdamer Platz is one of those Berlin stations with a long and chequered history. Originally it was the location of Berlin's first station, the Potsdamer Bahnhof, which opened in 1838 in what was then a location just outside of the Berlin city walls. In 1869 a newer, larger station was constructed to deal with increasing traffic, and with the growth of Berlin it became an important commuter and long-distance station. The station suffered heavy damage during the Second World War, after which it found itself in a precarious location between the eastern and western sectors of Berlin, and like most of the other traditional main line terminus stations was soon closed to traffic.
U-Bahn platform
The U-Bahn station was first opened on February 18, 1902, as a temporary station. This was replaced in 1907 by the current station, which was originally named Leipziger Platz as it is located more unter the Leipziger Platz than the Potsdamer Platz. Following the construction of the Berlin Wall in 1961 the station - the last in East Berlin - was closed, and remained so until 1992, when the line was reopened following German reunification.
The underground S-Bahn station with two platforms was opened in 1939. Most of the station was located in East Berlin (although some of the exits were on West Berlin territory) and it too was closed after the Berlin Wall was built, although trains continued to run on the North-South S-Bahn route, making it into one of Berlin's so-called "ghost stations" (where trains from West Berlin crossed under East Berlin without stopping). The station was reopened in 1992.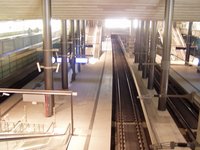 New regional platforms
Following reunification it was decided to build a North-South mainline railway tunnel to complement the existing East-West line, the Stadtbahn. Potsdamer Platz became one of the new stations on this line, with two platforms for regional trains being constructed adjacent to the S-Bahn station.
Additionally a further station for an as-yet unbuilt U-Bahn line was constructed. This crosses above the new regional station and can be seen as the step-like structure which seems to be hanging down from the ceiling. It is unlikely that this platform will ever see trains stopping in it. The space is sometimes used for art events and exhibitions.