> > > Reich Air Ministry
Reich Air Ministry
Reichsluftfahrtministerium
The Reich Air Ministry is a vast building dating from the Nazi era which was once the headquarters of Goering's Luftwaffe. Located on the Wilhelmstraße at the intersection with the Leipziger Straße, it was constructed between 1935 and 1936 to plans by architect Ernst Sagebiel, who was also responsible for the even more monumental Tempelhof Airport.
Being over 250 metres (about 280 yards long), it is an unmissable building with seven storeys, 2,800 rooms, 7 km of corridors, over 4,000 windows, 17 stairways and a total floor area of 112,000 square metres. It survived the Second World War largely intact, and became one of the main ministerial buildings in the GDR. It was the focus of the 1953 uprising in East Berlin, and the square at the crossing Leipziger Straße / Wilhelmstraße commemorates this. The southern end of the building is next to one of the remaining sections of the Berlin Wall.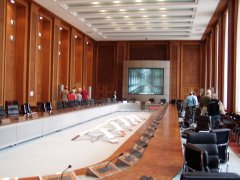 Conference room in the Finance Ministry,
said to have been used by Goering
Following German reunification in 1991 it became the headquarters of the Treuhand, the hugely unpopular organisation responsible for privatizing the former East German economy. The building is now named Detlev-Rohwedder-Haus after the first Treuhand chairman, who was assasinated by left-wing terrorists in 1991.
As part of the Federal Government's move from Bonn to Berlin, the Reich Air Ministry building was selected as the location for one of the major ministries, and following extensive restoration and modernisation it now houses the Federal Ministry of Finance.
The building is a popular backdrop for films and historical dramas. It is not usually possible to visit the inside; the Federal Government does however run an annual open day towards the end of August, when free guided tours are available.
Access
The Reich Air Ministry building is a short walk from U-Bahn station Mohrenstraße. It is also not far from Potsdamer Platz.
Reich Air Ministry
Wilhelmstraße 97
10117
Berlin
Germany