> > > > North-South Tunnel
North-South Railway Tunnel
Nord-Süd-Tunnel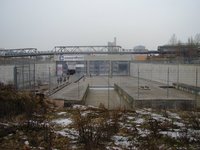 Southern portal of the tunnel in January 2002
Inside the tunnel
The North-South Railway Tunnel - also known as the Tiergarten Tunnel is a railway tunnel beneath the centre of Berlin providing a high-capacity rail link through Germany's capital city. Opened in May 2006, it intersects with the east-west Stadtbahn line at Berlin's main station, the Berlin-Hauptbahnhof. It connects Gesundbrunnen and Südkreuz stations on the ring line, after which lines branch out to Hamburg and the Baltic coast in the north, and Leipzig, Dresden, Prague and beyond in the south.
The tunnel is 2.7km long and consists of four seperate tunnels constructed using the shield method, except for the entrance/exit ramps and station areas. There are only two stations within the tunnel, the lower section of the Berlin-Hauptbahnhof, and Potsdamer Platz.
Trains and Services
Both long-distance InterCity (IC / ICE) and regional express trains run through the north-south tunnel. Regional express trains can be used with the local VBB public transport tickets and also stop at Potsdamer Platz. All trains are electric; and no diesel trains, and no freight trains, are permitted to use the tunnel.
The Berlin S-Bahn network uses an entirely seperate power and signalling system and S-Bahn trains are not able to use the tunnel. There are occasional proposals to introduce dual-system S-Bahn trains in connection with the S21 extension, but it there is no practical concept for their integration with the rest of the network. (However, during the first couple of weeks following the tunnel's opening, an S-Bahn unit borrowed from the Munich area did operate as a temporary line S21).
Gleisdreieck (Station) (0.1 km), German Museum of Technology (Berlin) (0.4 km), Mendelssohn-Bartholdy-Park (Station) (0.6 km), Bülowstraße (Station) (0.6 km), Yorckstraße (Station) (0.7 km), Yorckstraße (Großgörschenstraße) (Station) (0.7 km), Möckernbrücke (Station) (0.7 km), Senegalese Embassy (0.8 km), Kurfürstenstraße (Station) (0.8 km)