> > > > Stadtbahn
Stadtbahn
The Stadtbahn is a four-track railway line running on an east-west viaduct through the centre of Berlin. It connects Ostkreuz and Westkreuz stations and passes through Ostbahnhof, Alexanderplatz, Friedrichstrasse, Berlin-Hauptbahnhof, Zoo Station and Charlottenburg.
History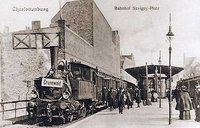 Like many cities, railways came to Berlin in a haphazard fashion, reaching as far as the then city limits, where terminus stations were built at locations convenient for the respective railway companies. This meant passage through Berlin was difficult and inconvenient for passengers and freight alike, and the military authorities saw the situation as a hindrance for fast and easy movement of troops, a problem keenly felt during the 1870-1871 Franco-Prussian War.

The first proposal for the Stadtbahn dates from 1872, when the Deutsche Eisenbahnbaugesellschaft (German Railway Construction Company - DEG) applied for permission to construct a line from Ostbahnhof (then Schlesischer Bahnhof) to Charlottenburg and onwards to Potsdam. Together with other interested railway companies and the Prussian state the joint company Berliner Stadteisenbahngesellschaft (Berlin City Railway Company) was founded in December 1873, but the costs involved in constructing a railway line through the built-up centre of a city eventually caused the company to go bankrupt. In 1878 the German state took over development of the Stadtbahn and provided financial means for its construction, which began in the middle of that year under the leadership of Ernst Dircksen (after whom the Dircksenstraße next to the Stadtbahn between Alexanderplatz and Hackescher Markt is named).
Several routes were proposed, and the current, somewhat meandering course was eventually chosen because it provided the cheapest option. For much of the way between Jannowitzbrücke and Friedrichstrasse the Stadtbahn's builders were able to fill in the old, and largely useless Stadtgraben (city moat) dating from the middle ages and conveniently owned by the state.

The Stadtbahn was completed in 1882, opened on February 7 of that year for local traffic and on May 15 for long-distance trains.

In 1928 the Stadtbahn's two local tracks were electrified as part of the creation of the city's new S-Bahn system.
Between 1961 and 1989 the Stadtbahn was cut in half by the Berlin Wall, with the border straddling the section between Friedrichstraße and the Lehrter Stadtbahnhof (since demolished, replaced by Berlin-Hauptbahnhof).
Between 1994 and 1998 the section of the Stadtbahn between Zoo and Ostbahnhof was extensively modernised, with stations being renovated and the conventional ballast trackbed being replaced by a permanent concrete bed which enables quieter operations. The long-distance pair of tracks was electrified, enabling regional and intercity trains to pass unhindered through the center of Berlin for the first time since before the war.
With the opening of the Hauptbahnhof in 2006, some of the long-distance traffic was diverted to the new North-South tunnel, which helped relieved congestion on the Stadtbahn and provided an an alternative route through the centre of Berlin.