> > > Mohrenstraße
Mohrenstraße (Station)
U-Bahnhof Mohrenstraße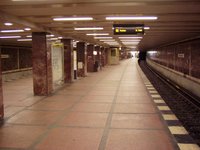 Mohrenstraße is a station on Berlin's U-Bahn line U2. It bears the distinction of being the most-renamed U-Bahn station in Berlin (see below). It is also well-known for its dark red marble decor, which uses marble salvaged from Hitler's New Reich Chancellery, which was located nearby.
Fare zone
Mohrenstraße is in VBB fare zone A.
Lines
History
The station was opened on October 1, 1908 as Kaiserhof after the nearby hotel of the same name. On August 18, 1950 it was renamed to Thälmannplatz after the prewar leader of the German Communist Party, Ernst Thälmann. In 1986, when S-Bahn station Greifswalder Straße (Station) was renamed to Ernst Thälmann-Park, Thälmannplatz was renamed to Otto-Grotewohl-Straße (after the GDR prime minister between 1949 and 1964). Finally, following reunification, it was renamed to Mohrenstraße.
Mohrenstraße was originally designed by Alfred Grenander and had white tiled walls with black-framed station signage. Between 1949 and 1950 it was completely redecorated using materials taken from Hitler's New Reich Chancellery.
Between 1961 and 1993 the station was the western terminus of that section of the modern day U2 located within the former East Berlin. Although the next station, Potsdamer Platz, also lay within the bounds of East Berlin, it was almost directly on the line of the Berlin Wall and could not be operated as a station.