> > > > Hotel Melia Berlin
Hotel Melia Berlin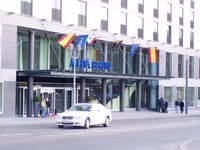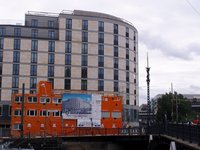 Opened in late 2006, the Hotel Melia Berlin is one of the city's newest hotel. Owned and operated by the Spanish Sol Melia group, the 4-star hotel offers 364 rooms and suites as well as conferencing facilities for up to 800 guests. Many rooms have a view of the River Spree and those staying on the Friedrichstraße side can see down to the Reichstag.
The Hotel Melia brings a distinctly Spanish flair to the northern Friedrichstraße with its Tapas Bar and the hotel restaurant Café Madrid.
It is located almost directly opposite Friedrichstraße Station and is within comfortable walking distance of Unter den Linden and the government district around the Reichstag.
Hotel Melia Berlin
Friedrichstraße 103
10117
Berlin
Germany
Tel.: (030) 20 60 790 - 0
Fax: (030) 20 60 790 - 444
Friedrichstraße (Station) (0.2 km), Romanian Embassy (0.4 km), Oscar Wilde Irish Pub (0.4 km), Kulturkaufhaus Dussmann (0.4 km), Ukrainian Embassy (0.4 km), The Embassy of the United States of America (0.4 km), Oranienburger Straße (Station) (0.5 km), Postfuhramt (0.5 km), Berlin Story (0.5 km)