> > > Friedrichstraße
Friedrichstraße (Station)
Bahnhof Berlin-Friedrichstraße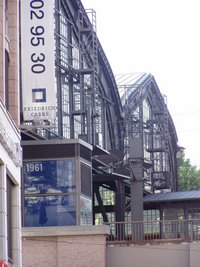 this_template: undef error - ModPerl::Util::exit: (120000) exit was called at /home/www/tagengo/perl/Tagengo/App.pm line 818
Friedrichstraße is a major interchange station for S-Bahn, U-Bahn and regional trains in Berlin's eastern city centre.
Facilities
There is a ticket office (Reisezentrum) where intercity and international tickets can be booked (warning: queues can be long here). A small number of left-luggage lockers (Schließfächer) are available near the ticket office. Toilet facilities (expensive) are located in the basement.
For grocery shopping outside of usual opening hours there is a branch of Edeka (Mon. - Sat. 6am - 10pm; Sundays and public holidays 8am - 10pm); and also Rossmann and several smaller shops.
Click here for a station layout plan / map (PDF, German only; see our guide Berlin Train Stations for a list of station-related vocabulary).
Convenient for
Timetable
The following links take you directly to DB's real-time departures and arrivals timetables:
Lines