Postfuhramt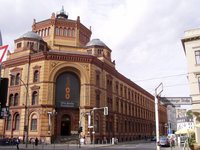 The Postfuhramt in Mitte's Oranienburger Straße is a large, elegant brick building originally constructed in the 19th century as a distribution depot and stables for Berlin's horse-drawn postal wagons. Currently it is being used as an exhibition center by gallery C|O Berlin.
History

The Postfuhramt was constructed between 1875 - 1881 to plans by architect Carl Schwatlo. It was heavily damaged during bomb raids in 1943 and 1944, although the building has largely been reconstructed. Until 1989 it was used by various incarnations of the German postal service. Following German reunification the building became surplus to requirements and stood empty for several years. Between 1997 and 2001 it was used for various exhibitions.
Since 2006 it is being used by C|O Berlin.
Access
How to get to the Postfuhramt: it is located next to S-Bahn station Oranienburger Straße. Trams M1 and M6 also stop here.
Postfuhramt
Oranienburger Str. 35-36
10117
Berlin
Germany
Oranienburger Straße (Station) (0.0 km), Oscar Wilde Irish Pub (0.4 km), Eastener Hostel Berlin (0.5 km), Hotel Melia Berlin (0.5 km), Ampelmann Gallery Shop (0.5 km), Village Voice (0.5 km), Strandbar Mitte (0.6 km), Ukrainian Embassy (0.7 km), Hackesche Höfe (0.7 km)