Berlin Story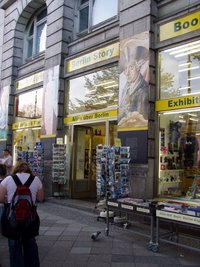 "Berln Story" on Unter den Linden
If you're looking for books on any aspect of Berlin, Berlin Story on Unter den Linden is the place to go. "Alles über Berlin" - "everything about Berlin" - is their motto, and just about anything that's ever been published about Germany's capital city is available in their sprawling store. Of the 2,500 or so titles they carry, around 250 are in English, and the English-speaking staff will help you find what you are looking for.
Berlin Story also carries a good range of Berlin souvenirs and is open on Sundays.
Check out their model diorama of the historical city centre to see what the area around Unter den Linden looked like before the Second World War.
Berlin Story
Unter den Linden 40
10117
Berlin
Germany
Tel.: (030) 2045 3842
Fax: (030) 2045 3841
Opening hours: Mon. - Sun. 10am - 7pm
The Embassy of the United States of America (0.1 km), Romanian Embassy (0.2 km), Russian Embassy (0.2 km), Kulturkaufhaus Dussmann (0.2 km), Hugendubel (Friedrichstraße) (0.2 km), Französische Straße (Station) (0.3 km), Friedrichstraße (Station) (0.3 km), Hungarian Embassy (0.3 km), The British Embassy in Berlin (0.4 km)