> > > Ostbahnhof
Ostbahnhof
Berlin-Ostbahnhof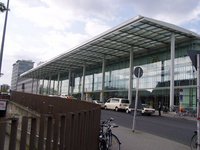 Ostbahnhof's main entrance
S-Bahn platform
The Ostbahnhof is one of Berlin's largest stations, located at the eastern end of the east-west Stadtbahn line which runs through the heart of the city. Originally opened in 1842, the current structure dates from 1882. It has two S-Bahn platforms and 3 platforms for ICE, intercity and regional traffic. It serves as the starting point and terminus for many intercity trains running to and from western Germany.
ICE and Intercity trains which stop at Ostbahnhof also stop at Berlin-Hauptbahnhof. Regional / Regional Express (RE) trains stop at Alexanderplatz, Friedrichstrasse, Berlin-Hauptbahnhof, Zoo Station, Charlottenburg (not all RE) and either Wannsee or Spandau.
Ostbahnhof is not connected to any U-Bahn or tram lines and is not served by many bus lines.
Fare Zone
Ostbahnhof is in VBB fare zone A.
Timetable
The following links take you directly to DB's real-time departures and arrivals timetables for Ostbahnhof:
History
As with many stations in Berlin, Ostbahnhof has seen a number of name changes. It was originally opened as Frankfurter Bahnhof as the terminus of the line to Frankfurt/Oder (the smaller of Germany's two Frankfurts). In 1845, following the fusion of that railway with another, it became Niederschlesisch-Märkischer Bahnhof. By 1852, following nationalisation by the then Prussian state, it was renamed Schlesischer Bahnhof (referring to the region of Silesia, to the southeast of Berlin in what is now Poland). Following the Second World War, the station was renamed Ostbahnhof, partly because Silesia was no longer a major destination. This name lasted until 1987, when as part of the 750th anniversary celebrations the East German government decided (East) Berlin needed its own Hauptbahnhof ("main railway station" - the main station in most German cities bears this name) and renamed it thus. However, following renunification this name was no longer appropriate, as the station is not very central, and a new central railway station was planned at the site of the old Lehrter Bahnhof, and in 1998 the name was reverted to Ostbahnhof.
Following the timetable change in May 2006, Ostbahnhof - along with Zoo Station - has lost a lot of its intercity traffic to the new Berlin-Hauptbahnhof.
Attractions
Unless you're catching a train, or are interested in stations, Ostbahnhof is not a must-see location.
On Platform 1 there is a plaque detailing the station's historical names.
The main station building contains a shopping centre with two large supermarkets. The shops are also open on Sundays and public holidays.