> > > Federal Chancellery
Federal Chancellery building
Bundeskanzleramt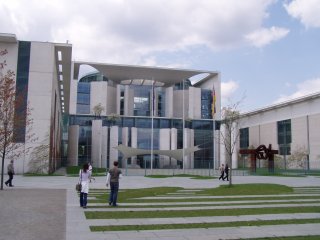 The Federal Chancellery building is the official residence of Germany's Chancellor (Prime Minister). Completed in 2001, it is part of the complex of buildings around the Reichstag built to house government institutions following the relocation of the German capital from Bonn to Berlin.
The building was designed by architect Axel Schultes. With 9 stories it has a height of 36 metres and a total floor area of about 12.000 square metres, making it one of the largest governmental headquarters in the world.
The Federal Chancellery contains an apartment as living quarters for the Chancellor; however this is not suitable as an official residence and both Gerhard Schröder and Angela Merkel chose to live elsewhere.
The building is not open to the general public. Guided tours are apparently available but as of the time of writing no information on frequency or registration could be found. The Federal Government does hold an annual open day, usually towards the end of August, where guided tours around major government buildings - including the Chancellery - are provided.
Access
The Federal Chancellery is a short (but interesting) walk from Berlin-Hauptbahnhof, and is also easily accessible from the Brandenburg Gate and Reichstag.
Federal Chancellery building
Willy-Brandt-Straße 1
10557
Berlin
Germany
Swiss Embassy in Berlin (0.1 km), Capital Beach (0.2 km), Bundestag (Station) (0.2 km), Reichstag (0.4 km), Bundespressestrand (0.4 km), Berlin-Hauptbahnhof (0.5 km), Platz des 18. März (0.6 km), Brandenburg Gate (0.6 km), French Embassy in Berlin (0.7 km)