> > > Marx-Engels Forum
Marx-Engels Forum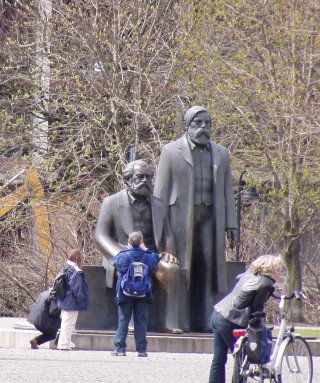 The statue of Marx and Engels forms the centrepiece
of the Forum The former GDR was officially an aetheist state, yet the founding fathers of socialism were worshipped almost as deities. A large statue of Karl Marx and Friedrich Engels is located slap-bang in the middle of former East Berlin at the centre of a large, grassy square - almost a park - called Marx-Engels Forum. 
The statues are surrounded by decorative elements showing black-and-white photographs depicting scenes from Socialism's history. The ensemble was designed by sculptor Ludwig Engelhardt.
Marx-Engels Forum is a nice place to take a break from sightseeing: there are lots of well-shaded park benches around the outer edges, and on the corner nearest the Rathaus there's a kiosk with attached toilet facilities.
DDR Museum (GDR Museum) (0.1 km), Ampelmann Shop in the DomAquarée (0.2 km), Palast der Republik (0.2 km), St. Marienkirche (0.3 km), Spree-Island (Spreeinsel) (0.3 km), Rotes Rathaus (Red City Hall) (0.3 km), State Council Building (0.4 km), Kilkenny Irish Pub (0.4 km), Unter den Linden (0.4 km)