> > > Reichsbank
Reichsbank
Reichsbankgebäude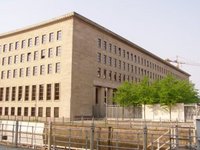 The former Reichsbank building in Berlin was built between 1934 and 1940 to a design by architect Heinrich Wolff to house the central bank of Nazi Germany.
Following the Second World War the building, which had been damaged but was reparable, was used by various East German government organisations. In 1959 it became the seat of the East German Communist Party's Politburo (Central Committee), and thus the de facto seat of power in the German Democratic Republic.
After the fall of the Berlin Wall the building was used temporarily to house the Volkskammer, the East German parliament, but following German reunification no immediate use was found for it. The decision to move Germany's capital from Bonn to Berlin, and to use existing buildings where possible, brought a new lease of life to the Reichsbank building, and it was designated to become part of the Foreign Ministry.
Between 1996 and 1999 the Reichsbank was reconstructed, and together with a new structure built in front of it, it now forms the Foreign Ministry complex.
Access
The Reichsbank is not close to any particular station. It is just off the eastern end of Unter den Linden (buses Bus 100 and Bus 200); closest U-Bahn station is Hausvogteiplatz (U2).
Jungfernbrücke (0.1 km), State Council Building (0.2 km), Slovenian Embassy (0.3 km), Hausvogteiplatz (Station) (0.3 km), Spree-Island (Spreeinsel) (0.3 km), Belgian Embassy (0.3 km), Palast der Republik (0.4 km), Unter den Linden (0.4 km), Liechtenstein Embassy (0.4 km)