> > > Wittenbergplatz
Wittenbergplatz (Station)
U-Bahnhof Wittenbergplatz
Wittenbergplatz is a station on the square of the same name served by the U-Bahn lines U1, U2 and U3.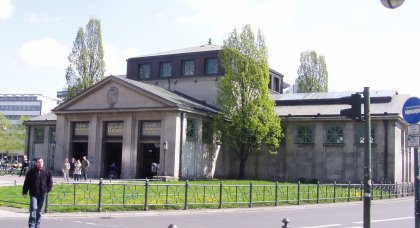 Convenient for
KaDeWe - Kaufhaus des Westens, Tauentzienstrasse
History
The station was opened on March 11, 1902. Built to a design by Paul Witti, it was a simple halt with two tracks and a platform on each side of the tracks, similar to some of the stations futher west on the U2 such as Kaiserdamm or Sophie Charlotte Platz. In 1910 planning permission was granted to reconstruct the station as an interchange for new lines being constructed westwards. The station was completely rebuilt by architect Alfred Grenander, with the large entrance building spanning three platforms with a total of five tracks. A fourth platform with a sixth track was planned but never constructed, although some of the infrastructure including parts of a tunnel are in place.
this_template: undef error - ModPerl::Util::exit: (120000) exit was called at /home/www/tagengo/perl/Tagengo/App.pm line 818 The station was heavily damaged during the Second World War. The entrance building was reconstructed during the 1950s in a utiltarian style, but was restored to its original design in 1982 / 1983. The entire station is a designated protected monument, and the advertisments inside the entrance hall have been specially created in the 1920s style.
One of the station's unusual features is a sign in London Underground's distinctive "roundel" style on the U2 platform in the direction of Ruhleben. This was donated by London Transport in 1952.
Lines