> > > Europa-Center
Europa-Center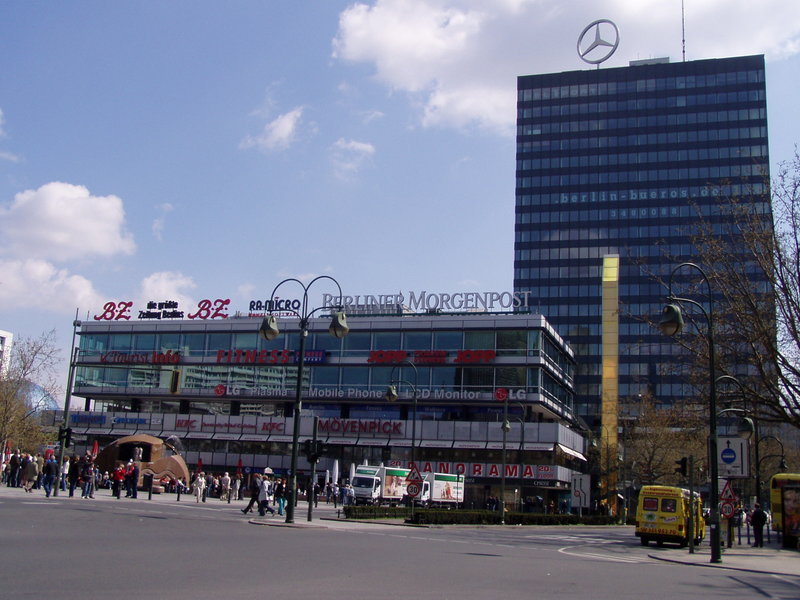 The Europa-Center is a shopping centre and office complex on Breitscheidplatz in the centre of west Berlin. It was built during the 1960s and for a long time was one of West Berlin's main attractions. It houses a Tourist Info center.
Since the reunification of the city many more modern shopping centres and malls have sprung up and the Europa-Center is beginning to show its age. It contains a mixed bunch of shops, ranging from souvenirs to an Irish pub. It is easily recognisable by the giant revolving Mercedes star on the roof of the office tower.
The Europa-Center is not a must-see location, although many guide books recommend the "Time Flow Clock" (Uhr der fließenden Zeit), a construction of tubes and spheres through which a green liquid is pumped in clever ways to represent the current time. If you have preschool children or have just arrived via time-travel from about the mid-twentieth century and are not up-to-date on recent technological developments it's certainly an interesting way to watch time pass.
Possibly more interesting, is the "Heliport" attraction on the roof: for about 10 Euros you get a six-minute "flight" over Berlin's sights in a genuine helicopter simulator (complete with real movement, sickbags are provided). Open from 10am - 10pm. More details here, although the site is in German only.
Europa-Center
10789
Berlin
(030) 26497 940
Irish Pub (Europa-Center) (0.0 km), Hugendubel (Tauentzienstraße) (0.1 km), Kaiser Wilhelm Memorial Church (0.1 km), Kurfürstendamm - Ku'damm (0.2 km), Zoo (0.3 km), Uruguayan Embassy (0.3 km), Kurfürstendamm (Station) (0.4 km), Zoo Station (0.4 km), KaDeWe - Kaufhaus des Westens (0.4 km)