> > > Berlin-Lichtenberg
Berlin-Lichtenberg (Station)
Bahnhof Berlin-Lichtenberg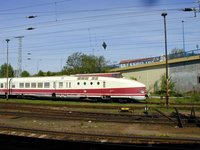 Old GDR train at Lichtenberg Station
Located in the Lichtenberg district of eastern Berlin, Lichtenberg Station once played a central role in East Germany's long distance railway traffic, but following German reunification and the construction of the new Berlin-Hauptbahnhof its role has diminished to a regional railway hub with just a few long-distance sleeper services. In 2006 it lost its last international connections such as the sleeper service to Novosibirsk in Russia, which now run from Zoo Station.
Timetable
The following links take you directly to DB's real-time departures and arrivals timetables for Lichtenberg:


Berlin to Novosibirsk in 90 hours
Access to Berlin's other main stations is by S-Bahn and U-Bahn only. All S-Bahn lines (S5, S7 and S75) run westwards from Lichtenberg via Ostkreuz onto the Stadtbahn to Ostbahnhof, Alexanderplatz to Berlin-Hauptbahnhof and beyond.
History
The station was opened in 1881 as "Lichtenberg", at that time outside of the Berlin city limits. A year later it was renamed Lichtenberg-Friedrichsfelde due to its proximity to the latter place. It became part of Berlin proper in 1920, and in 1938 was renamed Bahnhof Berlin-Lichtenberg. Following the Second World War and the closure of many of Berlin's traditional railway termini, it gained an important role in East Berlin's long distance railway traffic and by 1980 had been extended to four platforms, including the S-Bahn platform. The first electric S-Bahns reached Lichtenberg in 1928.
The U-Bahn station on the U5 was opened in 1930.
Zone
Berlin-Lichtenberg station is in VBB fare zone B.
Lines
Next stations from Berlin-Lichtenberg

Nöldnerplatz (Station)
S5
Friedrichsfelde Ost (Station)
Nöldnerplatz (Station)
S7
Friedrichsfelde Ost (Station)
Nöldnerplatz (Station)
S75
Friedrichsfelde Ost (Station)
Magdalenenstraße (Station) (0.9 km), Friedrichsfelde (Station) (1.1 km), Frankfurter Allee (Station) (1.6 km), Ring-Center (1.6 km), Berlinomat (1.8 km), Ostkreuz (Station) (2.1 km), Tierpark (Station) (2.2 km), Tierpark Berlin (2.2 km), Samariterstraße (Station) (2.3 km)