> > > > Communication Museum
Museum for Communication Berlin
Museum für Kommunikation Berlin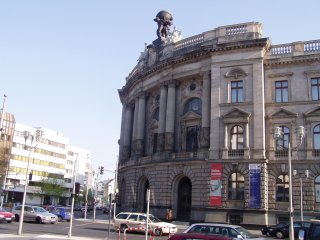 The Museum for Communication Berlin is one of four such museums in Germany (the others are located in Frankfurt, Hamburg and Nuremburg). They were established in 1995 as part of the reform of Germany's national postal network (formerly Bundespost, now just Post) and are charged with documenting all aspects of the history of communication in Germany.
The Berlin Communication Museum's main exhibition shows the development of the postal service from the Middle Ages onwards, and also the development of telecommunications in Berlin. There are quite a few interactive exhbits, and most of the items on display are presented in an easily accessible form. There are regular special exhibtions, particularly of modern and future communications technology.
Access
The nearest U-Bahn station is Mohrenstraße. It's a short walk from Potsdamer Platz and Checkpoint Charlie.
Museum for Communication Berlin
Leipziger Straße 16
10117
Berlin
Germany
Tel.: (030) 202 94 0
Opening hours: Tue. - Fri. 9am - 5pm; Sat., Sun., Hol. 11am - 7pm
Nearby places : Bulgarian Embassy (0.1 km), Slovakian Embassy (0.2 km), Stadtmitte (Station) (0.2 km), Mohrenstraße (Station) (0.2 km), Hi-Flyer (0.3 km), Reich Air Ministry (0.3 km), Embassy of the Czech Republic (0.3 km), Checkpoint Charlie (0.3 km), Kochstraße (Station) (0.5 km)
Links
Bulgarian Embassy (0.1 km), Slovakian Embassy (0.2 km), Stadtmitte (Station) (0.2 km), Mohrenstraße (Station) (0.2 km), Hi-Flyer (0.3 km), Reich Air Ministry (0.3 km), Embassy of the Czech Republic (0.3 km), Checkpoint Charlie (0.3 km), Kochstraße (Station) (0.5 km)