> > > Soviet War Memorial
Soviet War Memorial (Treptower Park)
Sowjetisches Ehrenmal (Treptower Park)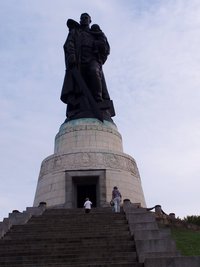 Bronze statue of a victorious soldier
Looking down from the statue's base

The Soviet War Memorial (sometimes translated as the Soviet Cenotaph) in Treptower Park is the central place of remembrance in former East Berlin for the victory over Nazi Germany and the fallen soldiers of the Soviet Army. Its focal point is a huge 12m (40 feet) bronze statue of a Soviet soldier carrying a child and crushing a swastika. Inside the base of the statue there is a memorial crypt with mosaic walls depicting of workers, peasants and minority peoples of the Soviet Union.

Surrounding the statue is a large plaza lined on each sides by 16 stone blocks carrying depictions of military scenes and quotations by Joseph Stalin (on one side in Russian, on the other side the same text in German). This area is a war cemetery for around 5,000 soldiers of the Red Army who died during the Battle for Berlin.

At the opposide end of the central area from the statue a portal representing a pair of stylized Soviet flags forms a gateway. The structures are made of marble removed from Adolf Hitler's demolished New Reich Chancellery and are flanked by two statues of kneeling soldiers.

Beyond this, at the entrance to the memorial on the monument's central axis, is a statue depicting Mother Russia grieving for her lost sons.
Access 
How to get to the Soviet War Memorial: the nearest station is S-Bahn station Treptower Park. Cross over the Puschkinallee into the main section of the park, and keep walking (it's a pleasant stroll) until you come across an ornamental fence. Follow this in either direction and you will come to some form of gate. Alternatively, take bus 166 / 167 to stop Herkomer Straße, which is opposite the main entrance gate.
Belarus Embassy (0.3 km), Treptower Park (Station) (0.8 km), Ostkreuz (Station) (1.8 km), Sonnenallee (Station) (1.9 km), Oberbaumbrücke (2.2 km), East Side Gallery (2.3 km), Bagdad (Imbiss) (2.3 km), Dunmore Cave (2.3 km), Schlesisches Tor (Station) (2.4 km)