Oberbaumbrücke
Oberbaumbrücke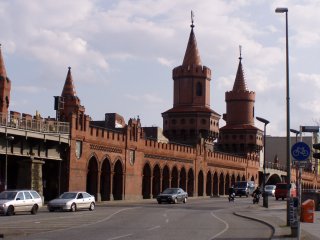 The Oberbaumbrücke is a bridge over the River Spree linking the Berlin districts of Friedrichshain and Kreuzberg. Clad in brick, its unusual design with twin spired towers in a neogothic style makes it a well-known symbol of Berlin. The viaduct section carries Berlin's oldest U-Bahn line, the U1.
The Oberbaumbrücke lies directly on the former east-west border, and during the existence of the Berlin Wall it served as a pedestrian-only border crossing point. The eastern approaches were blocked off by a building which served both as a border crossing to process the pedestrian traffic and also as an effective way of preventing vehicles from speeding down the slope from the east and breaking through onto the bridge.
The bridge was restored to its former glory during the mid 1990s and was reopened (also to vehicle traffic) in 1996. Tram lines for a future extension of the M20 towards Kreuzberg and Neukölln were added at the same but have never been used.
The Berlin Wall begins immediately on the north/east side of the bridge. Look out for the disco / restaurant "Speicher" - it has an old guard post on the roof.
Access
Closest U-Bahn station is Schlesisches Tor on the U1. It is also a short walk from Warschauer Straße (U1, S-Bahn) and the terminus of tram line M20.
East Side Gallery (0.1 km), Eastern Comfort (0.1 km), O2 World (0.2 km), Bagdad (Imbiss) (0.3 km), Schlesisches Tor (Station) (0.3 km), Space Beach (0.5 km), Warschauer Straße (Station) (0.5 km), Oststrand (0.7 km), Fair Exchange (Bookshop) (0.7 km)