East Side Gallery
East Side Gallery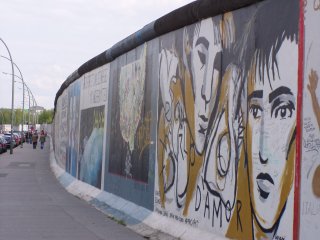 The East Side Gallery near Ostbahnhof (May 2006) The East Side Gallery is the longest contiguous segment of Wall remaining. It consists of 1.3km (a little under a mile) of Wall which contains about 100 different paintings from international artists, all done in 1990. Unfortunately time, weather and vandalism have caused considerable damage to many paintings and about two thirds of the gallery are no longer visible.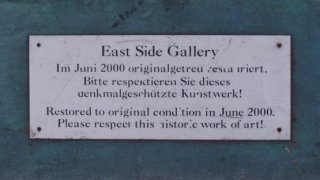 Plaque with notice about restoration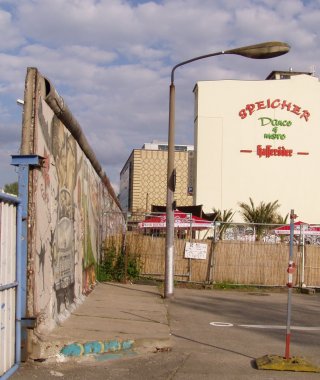 Wall segment, near Oberbaumbrücke The remaining third was restored in 2000 with help from the original artists and protective measures taken to prevent further detoriation. The best remaining sections are nearOstbahnhof and at the other end of the gallery adjacent to the Oberbaumbrücke.
Partial demolition
In July 2006 a 40 metre long segement of the gallery was removed to create access to the River Spree from the nearbyO2 World. The segments have been relocated parallel to the rest of the wall a little further to the west.
Restoration
The gallery - particularly the central sections - will be restored in 2008.
Oberbaumbrücke (0.1 km), Eastern Comfort (0.1 km), O2 World (0.2 km), Schlesisches Tor (Station) (0.4 km), Bagdad (Imbiss) (0.4 km), Space Beach (0.4 km), Warschauer Straße (Station) (0.4 km), Oststrand (0.6 km), Fair Exchange (Bookshop) (0.8 km)