Berlinomat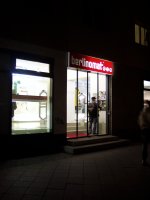 Berlinomat is a showroom store for Berlin-based designers located in an East German apartment block on the subversively un-hip central section of the Frankfurter Allee near the station. Owners Theresa Meirer and Jörg Wichmann aim to bring designers from different fields under one roof, and in Berlinomat you can find fashion, accessories / jewelry and designer furniture as well as their own café with home-made pastries and fruitjuice.
Berlin labels on sale here include ic!Berlin (eyewear designers, sunglasses), t-shirts from Hasipop and GDR-style sneakers from Zaha .
Many of the products showcased are available in Berlinomat's online store at http://www.berlinomat-shop.com/.
Access
Berlinomat
Frankfurter Allee 89
10247
Berlin
Germany
Tel.: (030) 4208 1445
Fax: (030) 4985 3224
Opening hours: Mon. - Fri. 11am - 8pm; Sat. 10am - 6pm
Ring-Center (0.3 km), Frankfurter Allee (Station) (0.3 km), Samariterstraße (Station) (0.4 km), East of Eden (Bookshop) (0.6 km), Salamas Bar (0.8 km), Magdalenenstraße (Station) (0.9 km), Frankfurter Tor (Station) (1.2 km), Ostkreuz (Station) (1.2 km), Warschauer Straße (Station) (1.7 km)