O2 World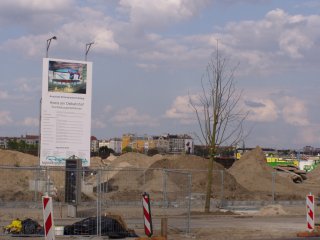 O2 World construction site in Berlin O2 World is a multi-purpose arena currently being constructed by the US American Anschutz Group near theOstbahnhof and the East Side Gallery. Scheduled for completion in 2008, it will have a seating capacity for around 17,000 people and will be home to the ice hockey team Berliner Eisbaeren and the basketball team Alba Berlin.
The arena will be 160m in length, 130m wide and 35m tall with a gross volume of around 500,000 cubic metres. Total area of the arena will be around 60,000 square metres. It will feature a 1,800 square metre LED wall on the outside facade, which will transform the front into a large video screen. The arena will cost around €150 million to construct.
The arena's construction has been controversial because its planning involves removing a segment of the nearby East Side Gallery. Additionally it has been criticized for creating competition to similar locations in Berlin, which are not used to capacity.
Links
Eastern Comfort (0.1 km), Oberbaumbrücke (0.2 km), East Side Gallery (0.2 km), Schlesisches Tor (Station) (0.2 km), Bagdad (Imbiss) (0.2 km), Space Beach (0.3 km), Oststrand (0.5 km), Warschauer Straße (Station) (0.6 km), Fair Exchange (Bookshop) (0.6 km)