> > > Rosa-Luxemburg-Platz
Rosa-Luxemburg-Platz (Station)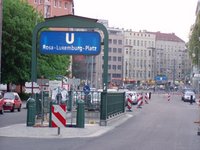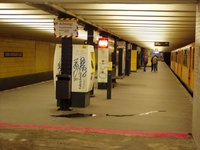 U-Bahnhof Rosa-Luxemburg-Platz
Rosa-Luxemburg-Platz is a station on Berlin's U-Bahn line U2.
Until 2004 it was home to a series of collage-style artworks in place of advertising hoardings along the tunnel walls depicting scenes from the life of Rosa Luxemburg.
Convenient for
Volksbühne, Torstraße (eastern end).
Fare Zone
Rosa-Luxemburg-Platz is in VBB fare zone A.
Route