> > > Hamburger Bahnhof
Hamburger Bahnhof
Hamburger Bahnhof
The Hamburger Bahnhof (Hamburg Station) was constructed in 1846-47 as the terminus of the new railway line to Hamburg. Currently it is occupied by the Museum for Contemporary Art.
It is one of Germany's oldest surviving station buildings. However it was closed as early as 1884 as it was unable to cope with increasing traffic and its role was taken over by the nearbyLehrter Bahnhof (on whose site the new Berlin-Hauptbahnhof has been constructed). The freight terminus behind the station did however remain in service until the 1990s.
In 1906 the station's main building was opened as the Royal Archtitecture and Transport Museum (German: Königliches Bau- und Verkehrsmuseum), the predecessor to Berlin's modern day Museum of Technology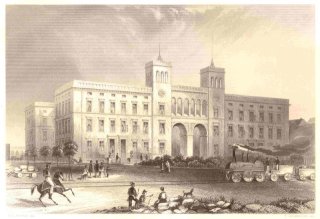 The Hamburger Bahnhof around 1850 The station was heavily damaged during the Second World War, although much of the museum's collection could be salvaged. Following 1945 the station - although situated in West Berlin - became part of the East German-operated Reichsbahn and lay unused until 1984, when as part of a larger agreement about railway infrastructure in West Berlin it was transferred to the West Berlin government. It was extensively repaired and used from 1987 onwards for various exhibitions.
In 1996 the Hamburger Bahnhof became Berlin's Museum for Contemporary Art, an offshoot of the Neue Nationalgalerie. It houses works from the National Museums in Berlin as well as very many items belonging to the private collector, Erich Marx, including works by Joseph Beuys, Anselm Kiefer, Roy Lichtenstein and Andy Warhol. Between 2004 and 2010 parts of the extensive Flick collection will be exhibited in rotation.
Invalidenstraße 50-51
10557
Berlin
(030) 3978 3439
Tue. - Fri. 10:00-18:00; Sat. 11:00-20:00; Sun. 11:00-18:00
Berlin-Hauptbahnhof (0.4 km), Bundespressestrand (0.6 km), Capital Beach (0.7 km), Oranienburger Tor (Station) (0.7 km), Naturkundemuseum (Station) (0.7 km), Swiss Embassy in Berlin (0.7 km), Ukrainian Embassy (0.8 km), Federal Chancellery building (0.8 km), Bundestag (Station) (0.9 km)