Bierpinsel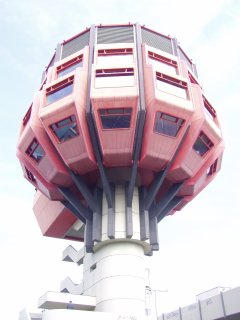 The Bierpinsel (literally beer brush) is one of those vaguely iconic West Berlin buildings located in Steglitz's Schloßstraße.
46 metres (about 150 feet) tall, it was built between 1972 and 1976 to a design by architects Ralph Schüler and Ursulina Schüler-Witte. Consisting of a three-storey structure mounted on a circular concrete column, it is very much 70's style architecture.
The Bierpinsel contains a disco, a sports bar and a cafe / restaurant on the top floor. Currently all are closed following management problems.
February 2007: it has been announced that the Bierpinsel is under new ownership and will be extensively renovated, probably losing its distinctive red colour. It will house a "good" restaurant and some sort of café. It is expected to reopen in 2008.
Bierpinsel
Schloßstraße 17
12163
Berlin
Germany
Tel.: (030) 7908380
Schloßstraße (Station) (0.0 km), Hugendubel (Steglitz) (0.0 km), Celtic Cottage (0.3 km), Thailand Embassy (0.5 km), Finnegan's Irish Pub (0.6 km), Rathaus Steglitz (Station) (0.7 km), Storytime Books and Café (1.3 km), Never Never Land "Outback" (1.4 km), Innsbrucker Platz (Station) (2.3 km)