> > > Innsbrucker Platz
Innsbrucker Platz (Station)
U- und S-Bahnhof Innsbrucker Platz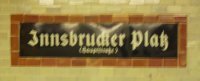 this_template: undef error - ModPerl::Util::exit: (120000) exit was called at /home/www/tagengo/perl/Tagengo/App.pm line 818this_template: undef error - ModPerl::Util::exit: (120000) exit was called at /home/www/tagengo/perl/Tagengo/App.pm line 818
Innsbrucker Platz is an interchange station on Berlin's S-Bahn ring line and the southern terminus of U-Bahn line U4.
U-Bahn
The station was opened in 1910 and was originally called called Hauptstraße after the nearby street of the same name. Although there is an Innsbrucker Straße south of the station, the square itself did not gain its name until 1927, and the station wasn't renamed until 1933, when a new station on the adjacent S-Bahn ring line was opened.
Originally a southwards extension of the U4 beyond Innsbrucker Platz was planned, and a tunnel existed to take trains to a depot in the Otzenstraße, but this was abandoned in 1935. The construction of an Autobahn tunnel beneath Innsbrucker Platz during the 1970s severed this tunnel, and no plans exist for further extensions.
During the 1970s, a further U-Bahn platform was constructed at a deeper level along the course of the Hauptstraße. This was intended to be part of an U-Bahn line U10, which was never built (Kleistpark, further up the Hauptstraße, also has such an unused platform intended for the U10).
S-Bahn
The S-Bahn station was opened in 1933 and is one of the newer stations on the ring line. It was closed between 1980 and 1993.
Convenient for
Innsbrucker Platz; the Lidl supermarket in the pedestrian underpass is open from 8am - 9pm every day of the week (including Sunday) and is useful for after-hours shopping.
Fare Zone
Innsbrucker Platz is in VBB fare zone A.
Next stations from Innsbrucker Platz

Schöneberg
S41/S42
Bundesplatz (Station)
Rathaus Schöneberg (Station) (0.5 km), Schöneberg (Station) (0.6 km), Rathaus Schöneberg (0.7 km), Storytime Books and Café (1.0 km), The Shannon (1.1 km), Never Never Land "Outback" (1.2 km), Bayerischer Platz (Station) (1.2 km), Berlin-Südkreuz (Station) (1.5 km), Philippines Embassy (1.7 km)