Platz des 18. März
Platz des 18. März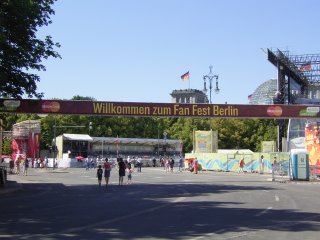 The Platz des 18. März during the 2006 World Cup.
The Brandenburg Gate is off to the right of the photo. The Platz des 18. März (18th of March Square) is the small, semicircular plaza (actually more of a traffic junction) on the west side of the Brandenburg Gate. The name commemorates both the events of the revolution of 1848 and the first free and democratic parliamentary elections in the former GDR on March 18, 1990.
The Platz was officially named on June 15, 2000; prior to this it bore the uninspired name "Platz vor dem Brandenburger Tor" (Place in front of the Brandenburg Gate).
Between 1961 and 1989 the Platz was divided by the Berlin Wall, which had a westwards "bulge" where it passed the Brandenburg Gate. The path of the wall is marked by the usual double-line of cobblestones, however the course passes through what is now a busy junction and is somewhat difficult to make out.
The Platz des 18. März is often closed to traffic when major events take place in the area.
Brandenburg Gate (0.0 km), Pariser Platz (0.1 km), French Embassy in Berlin (0.2 km), The Kennedys (0.2 km), Hotel Adlon (0.2 km), Brandenburger Tor (Station) (0.2 km), The British Embassy in Berlin (0.3 km), Holocaust Memorial (0.3 km), Hungarian Embassy (0.3 km)