Wednesday, August 9, 2006
Ostkreuz renovation delayed - again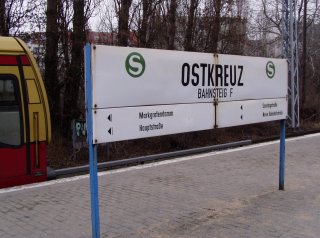 If you've ever use the S-Bahn in the eastern side of Berlin, you'll have probably made your acquaintance with Ostkreuz (literally: Eastcross), the connecting station between the Stadtbahn and the eastern side of the Ringbahn. Despite being Berlin's busiest station (with around 100,000 passengers daily) it is - literally - falling apart, and has been that way for more than half a century. It's been patched up where absolutely necessary, and there have been many plans to rebuild it, but because of the complex nature of the station and its role as a major hub in eastern Berlin's S-Bahn network neither the East German Reichsbahn nor its successor Deutsche Bahn have managed to do any construction work apart from putting together some very impressive models.
The Deutsche Bahn has actually been planning the reconstruction of Ostkreuz pretty much since reunification, and work is currently scheduled for commencement at the start of September 2006. However it now turns out that planning permission is taking longer than expected, meaning the date has been delayed - yet again - to the end of September. Don't hold your breath though: contacts in the railway construction scheme are talking of reliable rumours that a postponement to Spring 2007 is on the cards, so the official ceremony can coincide with the northward migration of flying pigs from their winter quarters in Wolkenkuckucksheim.
Nevertheless: if you want to get a feel for what S-Bahn travel in East Berlin felt like, Ostkreuz is the place to go - just get there before it all falls down.
There's also an Ostkreuz blog by "fans" of the station (German only): http://www.ostkreuzblog.de/