Wednesday, July 26, 2006
Book for Bush in Berlin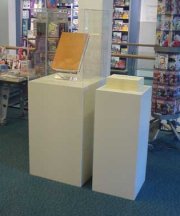 While wandering through the Thalia bookstore in my localshopping centre I came across the display of the Book for Bush. A project by Swiss media / artist people Boris Zatko and Comenius Röthlisberger, aka soweitsogut, it makes it possible for anyone to send a message to the USA's current head honcho, Mr. Bush. . For a payment of US$2 for up to 200 characters (letters), and US$0.01 for every 5 characters thereafter, the messages will be printed in a leather-bound book and presented to Mr. Bush one year before the end of his presidential term (a copy will also be presented to the US Library of Congress).
I'm tempted to write a missive myself, probably something along the lines of "if you're so frightened of the terrorists, why are you building your new Berlin embassy in such an exposed central location near to the Brandenburg Gate and right opposite the Tiergarten (lots of trees for snipers to hide in)?"
Whatever, the book's binding is on display togehter with some informational material in the Thalia bookshop in the Schönhauser Allee Arcaden until August 5.