Messe Berlin (Exhibition Centre)
Messe Berlin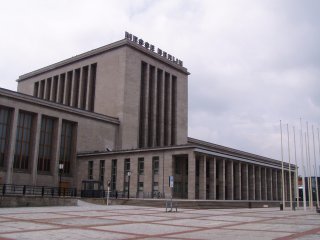 The Messe Berlin is Berlin's main exhibition centre, located in the Charlottenburg district in the western city centre. It boasts 26 interconnected halls, some of which are fitted for multi-purpose events, with a total floor space of 160,000 m².
Events and Trade Shows
Messe Berlin hosts many internationally prestigious events such as the IFA (Internationale Funkaustellung) and the Grüne Woche (International Green Week), the world's largest food-related trade fair.
Access
How to get to the exhibition center: the nearest S-Bahn stations are Messe Süd and Messe Nord / ICC. U-Bahn station Kaiserdamm (Station) (U2) is within reasonable walking distance. Buses X34 and M49 provide fast direct links to Zoo Station and the Messe is also served by routes X49 and 139.
Links
Funkturm (0.2 km), Ibis Berlin Messe (0.3 km), Turkmenistan Embassy (0.3 km), Messe Nord / ICC (Witzleben) (0.5 km), Westkreuz (Station) (0.9 km), Messe Süd (Station) (1.0 km), Heerstraße (Station) (1.2 km), Armenian Embassy (1.2 km), Irish Inn (1.7 km)