> > > Messe Nord / ICC
Messe Nord / ICC (Witzleben)
S-Bahnhof Messe-Nord / ICC (Witzleben)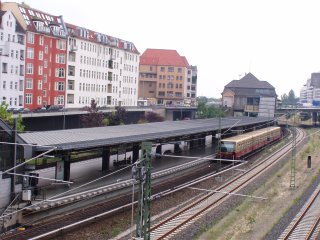 Messe-Nord / ICC is is a station on the Berlin S-Bahn's ring line in the Charlottenburg district. It is close to the U-Bahn station Kaiserdamm and both stations are shown as an interchange on maps, although they are not directly connected.
Convenient for
Messe Berlin (Exhibition Centre), ICC, Funkturm, Lietzensee.
History
The station was opened in 1916 and was originally called Witzleben, named after Karl Ernst Job Wilhelm von Witzleben (1783 - 1837), Friedrich Wilhelm III.'s general adjutant who formerly owned the surrounding land. It was closed between 1980 and 1993. In 2003 it was renamed, emphasizing its proximity to Berlin's exhibition centre.
Next stations from Messe Nord / ICC

Westkreuz
S41/42
Westend
Ibis Berlin Messe (0.3 km), Funkturm (0.4 km), Messe Berlin (Exhibition Centre) (0.5 km), Turkmenistan Embassy (0.8 km), Westkreuz (Station) (0.8 km), Armenian Embassy (1.2 km), Irish Inn (1.3 km), Berlin-Charlottenburg (Station) (1.3 km), Messe Süd (Station) (1.4 km)