> > > Lichtenberg
Lichtenberg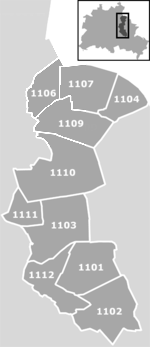 Position of Lichtenberg within Berlin
Lichtenberg is one of Berlin's 12 boroughs, located in the former East Berlin. It absorbed the old borough of Hohenschönhausen in 2001 as part of the city's administrative reforms.
Lichtenberg is dominated by a mix of housing estates, mainly apartment complexes in the Plattenbau style, and industrial estates. It is of course home to Berlin's Lichtenberg Station, once one of the city's larger rail centres but now relegated to a mainly regional role.
Attractions
Lichtenberg is somewhat lacking in tourist attractions and other sights of note. Visitors will probably be interested in the following places:
Living
Lichtenberg is one of the less popular areas of Berlin, consisting largely of GDR housing projects and industrial estates. Its image is not helped by its association with the Stasi, and neo-Nazi groups operate in the area. It does however have some nicer corners (see below).
Real Estate
Much of Lichtenberg's housing stock is made up of Plattenbauten, East Bloc style prefabricated apartment buildings. The area known as "Pfennpfuhl" near the centre of traditional Lichtenberg was one of the first Plattenbau estates to be built in Berlin. In contrast, the Hohenschönhausen neighbourhood in the north of the district was constructed during the 1980s. Many of these buildings have been renovated to "western" standards.
East of Ostkreuz station there is an area of pre-WWI apartment housing bordering onto Friedrichshain which is quite pleasant and has potential for future development.
Karlhorst - once home to the headquarters of the Soviet occupation forces - is very different in character from the rest of Lichtenberg, consisting of pre-WWI apartment housing and villas, and has been described as eastern Berlin's Dahlem.