Monday, July 17, 2006
Teddy Tours
So you'd like to come to Berlin but just don't have the time? Simple: send your teddy instead. Seriously. Not one but two companies are now offering Berlin tours for teddy bears. For between about €75 and €150 depending on the type of tour and distance from home, you can send your teddy on a trip to Germany's federal capital.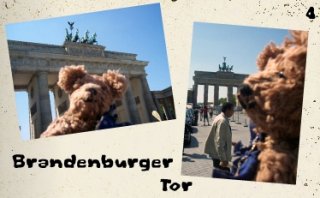 The package tours include a trip around the sights with obligatory photos, and even some extras such as a picnic in the Tiergarten and a postcard to the owner.
Hard as it is to admit though, this service is not an idea born in Berlin: Teddy in Munich has been offering guided tours around the city of the Oktoberfest since 2005.
The two companies offering this service are:
my teddy on tour also has a "travel report" from a satisfied "customer".
Note: at the time of writing neither site provided a working version in English.