Sunday, July 9, 2006
Impressions from the "Fan Mile"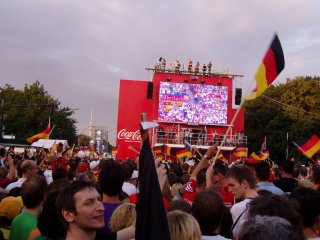 As someone who has trouble remembering which teams are playing in a match, my participation in the plethora of World Cup related events has been somewhat minimal. More by chance than design I ended up at the "Fan Mile" in Berlin's Tiergarten on Saturday night in time to watch the Germany-Portugal match for third place (although judging by the reactions of the local citizenry you'd think Germany had won the cup).
Though very crowded, especially in front of the big screens, it was a comparatively civilized affair, the kind of event where you could - and people did - bring the kids. There was a police presence, and fairly thorough searches were conducted at the entrance points, but once inside safety was pretty much up to the crowd itself, and as I've experienced at similar events in Germany, everyone was pretty well-behaved. Loud and raucous yes, but noone doing anything really idiotic like throwing stuff into the crowd or brawling. (Might have been different if England had been playing though).