Thursday, February 22, 2007
No Love Parade in 2007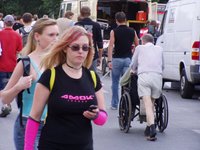 Ravers at the 2006 Love Parade Good news for the Tiergarten: Berlin's (in)famous techno festival, the Love Parade, will not be taking place this year - the organisers cite administrative problems with the authorities and are considering taking the parade to another European city. This is the third year the Love Parade hasn't taken place: it was revived in 2006 under new management after a break in 2004 and 2005.
It's possible, but unlikely that some last-minute arrangement can be made to "rescue" the parade; if not it's probable some other dance event will take place around the same time.
Opinion: it's time for the Love Parade to be put to rest, by an injection at the vets if needs be. I went to the 2006 event (as an observer, I hasten to add - neon-coloured hairy leggings are really not my thing) and it was a pale shadow of its former self. At least a third of the "participants" were "normal" people who'd come to gawk like me, and there was even a elderly people being pushed around in wheelchairs, for heaven's sake.