> > > Pankow
Pankow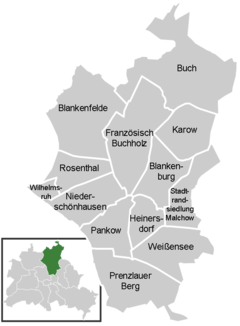 Location of Pankow within Berlin
Pankow is one of Berlin's twelve boroughs. Located entirely within the former East Berlin, it consists of the pre-2001 boroughs of Pankow, Prenzlauer Berg and Weißensee. There was much controversy as to how the new borough was to be named, as particularly residents of the more urban Prenzlauer Berg resented being subsumed into the distinctly suburban Pankow.
The borough of Pankow stretches almost from the centre of Berlin, where it borders on Mitte , right out to the northern edge of the city. Urban Prenzlauer Berg forms the densely populated southern segment, and consists largely of Berlin's typical five storey, high-density apartment blocks. It's in Prenzlauer Berg where most of the "action" is.
Pankow proper joins on to Prenzlauer Berg, and is centered around the old village of Pankow a little to the north ofPankow Station.
Weißensee, the third traditional borough to be merged into the new Pankow, is one of Berlin's lesser known districts, located on the city's northeastern periphery. Its main claim to fame is the Kunsthochschule Weißensee (KHB, School of Art and Design Berlin Weissensee).
Pankow's outer reaches to the north and east become increasingly suburban, with housing giving way to parks, woods and even fields.