Wednesday, March 21, 2007
More pictures of Knut the baby polar bear

It seems that Berlin's little polar bear Knut is becoming famous - judging by the number of people finding their way here from around the world. So here's a round-up of the latest pictures of Knut, the baby polar bear from Berlin, Germany. (Most of the pages linked are in German, but the photo, videos etc. are easy to find).
Added: some recent amateur photos
Added: Youtube videos of Knut
Update: Knut is currently on show at the Zoo. He can be visited daily between 11am and 12pm, and 2pm - 3pm. Note that he won't be with the other polar bears; instead you can see Knut at the spectacled bears' enclosure (Brillenbärfreianlage). Just follow the crowds.
Added: recent Knut pictures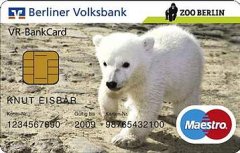 Update: get your very own Knut EC bank card from the Berliner Volksbank. More info (in German) here.