Wednesday, April 18, 2007
Dinosaur at the Hauptbahnhof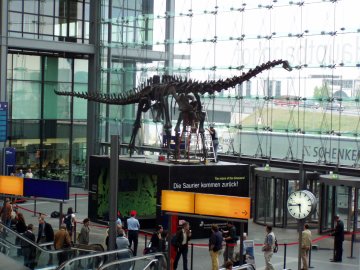 No, it's not Deutsche Bahn's newest customer service employee: it is a genuine dinosaur skeleton replica, which is around 100 years old and has just been restored. It belongs to the Naturkundemuseum (Museum of Natural History), which is being renovated.
The skeleton is of a Diplodocus Carnegii, is 27 metres long and 4 metres high, weighing in at 1.4 tonnes. The diplodocus itself would have weighed about 17 tonnes, around 150 million years ago. The original bones were discovered about a century ago, and several copies were made, including this one which was donated to the Naturkundemuseum.
It will be on display in the southern hall of the [ % page.slink(id='Hauptbahnhof') %] until May 28. (The Naturkundemusem itself will reopen - complete with this and other dinosaurs - in the middle of July).