Wednesday, August 15, 2007
BerlinTube?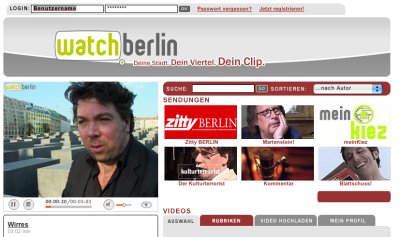 No, not the U-Bahn, but a YouTube clone called WatchBerlin especially for Germany's federal capital. Watch video clips made by normale Berliners, and also special clips made by some Berliner Promis (celebrities) such as Wladimir Kaminer.
A nice idea, although the site is not as easy to use as YouTube and on a stable 1Mb/s DSL connection the videos don't play smoothly. Users of Apple's Safari browser may find the the site doesn't work properly - and the videos are not playable in Linux.
Link:
http://www.watch-berlin.net/