Monday, September 24, 2012
iOS6 visitors beware - Apple Maps are living in Berlin's past
Twenty odd years ago, when your author first came to Berlin, maps were things which were printed on paper and became outdated pretty quickly (thanks to among other things the constant renaming of street and station names in the former East Berlin following reunification).
Now, thanks to the wonders of digital mobile communications, you can experience cartographical obsolesence from the comfort of your own iPhone (or other iDevice), as long as you're running the latest iOS6. For along with many other errors, Apple has replaced Berlin's modern main railway station, the Berlin-Hauptbahnhof, with the historical S-Bahn station Lehrter Stadtbahnhof, which was located just to the north of Hauptbahnhof until it was demolished in 2002.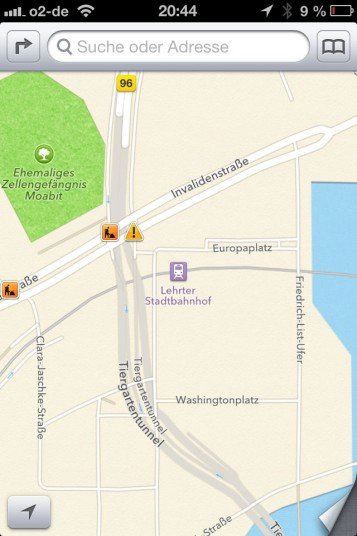 Berlin vistors are advised not to rely on Apple's map application - you will be better server by e.g. the Falk map app.