Tuesday, August 28, 2007
"Berlin For Free"
Berlin has a reputation as one of Europe's better value-for-money capitals - and a lot of things aren't just cheap, they're free. Now there's a website - Berlin-for-free - which, as its name suggests, holds listings of free events in Germany's capital.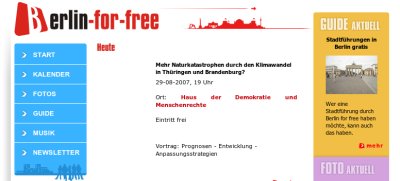 Despite the name, the site is entirely in German, but events are easy to find in the Calendar section. However, be warned: among the listings there are a lot of exhibitions, demonstrations etc. of only limited interest. Nevertheless if you look carefully, you can find all sorts of free concerts, exhibitions and festvials.
Link
Berlin-for-free: http://berlin-for-free.de/