Thursday, September 13, 2007
The 2nd PornfilmfestivalBerlin 2007
There's more to film festivals in Berlin than just the Berlinale: coming up fast is the PornfilmfestivalBerlin, which according to its website "prides itself on showcasing the best porn-related films and videos from around the globe".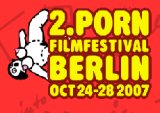 Taking place over five days between October 24 - 28 2007, the Porn film festival Berlin will be screening over 150 films from around 30 countries around the world. Many films will be shown in mainstream cinemas such as Kant Kino, Eiszeit Kino and Xenon Kino. To quote the website again, "the festival also features panel discussions, exhibitions, 5 nights of parties and of course sex.".
More details are available on the festival's website (note: the site is mainly text and fairly "safe for work").
Deutsche Welle has a review of last year's festival to give you an idea of what's on.